Dr. Edens is member of the faculty of New Baptist Theological Seminary, as professor of Theology, Islamic Studies and Apologetics. He has pastored several churches throughout Louisiana and Mississippi. He was an IMB missionary to the Middle East and Northern Africa, also serving as the IMB Strategy Associate.B Strategy Associate.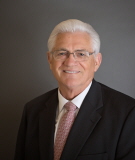 Minister of Senior Adults
David joined the staff of FBC Wiggins June 2018 as Minister of Senior Adults. He started his preaching ministry in June 1961 and he is very passionate about helping others in their walk with the Lord.
David holds an Associate of Arts degree from Clarke Memorial College, Bachelor of Arts degree from William Carey University, and a Master of Theology degree from New Orleans Baptist Theological Seminary.
David lives in the Big Level community with his wife Faye and daughter Amy.
Director of Weekday Education