Neil Tullos began serving as the pastor of First Baptist Wiggins on June 19, 2022. Neil was saved by Jesus as a child and called into vocational ministry as a high school student. He received his undergraduate degree from Mississippi College and continued his education at New Orleans Baptist Theological Seminary. He received a Master of Arts in Christian Education from the seminary and is currently completing a Doctor of Educational Ministry specializing in pastoral ministry. He enjoys preaching, leading, planning, and equipping others to serve in Gospel ministry.
Married for twenty years to the former Amanda Creel of Flora, MS. Amanda earned her undergraduate and graduate degrees from Mississippi College. She taught elementary students for eight years before moving into school and district-level administration. She is currently the Director of The Partnership School and Educational Liaison at Mississippi State University.
Neil's hobbies include cooking, reading, running, attending sporting events, and being entertained by their English Bulldog, Cash.
Associate.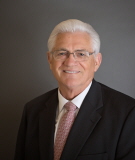 Minister of Senior Adults
David joined the staff of FBC Wiggins June 2018 as Minister of Senior Adults. He started his preaching ministry in June 1961 and he is very passionate about helping others in their walk with the Lord.
David holds an Associate of Arts degree from Clarke Memorial College, Bachelor of Arts degree from William Carey University, and a Master of Theology degree from New Orleans Baptist Theological Seminary.
David lives in the Big Level community with his wife Faye and daughter Amy.
Director of Weekday Education